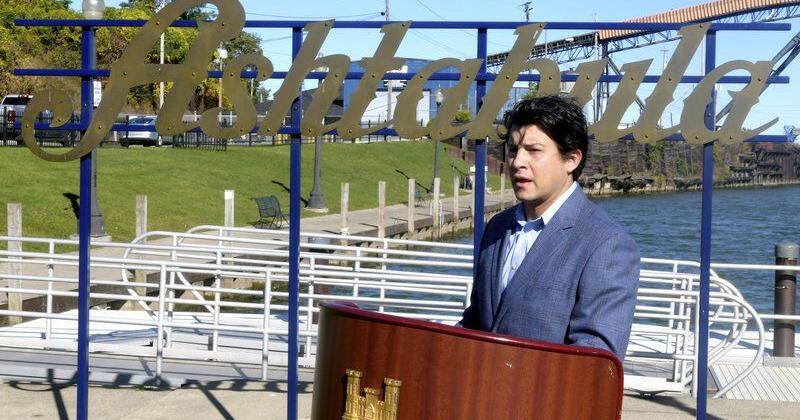 Ashtabula County Land Bank Executive Director Leaving Organization Tomorrow | Local News
Ashtabula County Landbank Executive Director Eddy Eckart will leave the organization on Jan. 26, after working with the organization since 2018, according to a press release from the landbank.
"I'm very proud of the work we've done since 2018," Eckart said. "The land bank has helped stabilize neighborhoods across the county, and we are now able to help rebuild these communities. It's a bit of a bittersweet moment for me because I really enjoyed building the organization and positively impacting the county I live in.
When reached by phone Monday, Eckart said he would recall the relationships the land bank may have had with communities and county agencies. "We couldn't have pivoted by being a [demolition] one organization, to one that does a lot of different community activities without the collaboration of all these entities," he said.
Eckart said the land bank has two state grants coming this year. "I think we're very well positioned for the future," Eckart said. One grant will fund the demolition of derelict commercial and residential properties, and the other will help clean up and assess brownfields in the county, he said.
Eckart said the land bank is working in partnership with the Port Authority of Ashtabula County and the county's planning department on the brownfield concession.
"We couldn't have gotten to where we are without Eddy's help in spearheading all of these initiatives," Commissioner JP Ducro, Vice Chairman of the Land Bank Board, said in the press release. "He will be truly missed. We wish him the best.
"Hardworking, dedicated people with exceptional vision like Eddy's are a true inspiration," Ashtabula County Treasurer and Landbank Board Member Angie Maki-Cliff said in the statement. "He shows a commitment to quality and excellence and is dedicated to improving our community. I consider myself very lucky to have had the opportunity to work alongside Eddy. He will be missed by the Ashtabula County Land Bank and the Treasurer's Office and will truly appreciate all the work he has done.
Eckart said he is extremely grateful to the board members, past and present.
"I think whenever we talk about the land bank, it's important to give credit to [former Ashtabula County County Treasurer] Dawn Cragon for kicking it off," Eckart said. "It's become an integral part of stabilizing neighborhoods in this county."
Eckart also praised Maki-Cliff.
"It has been a pleasure working with Treasurer Angie Maki Cliff over the past few months," he said. "She understands and supports the role of the Land Reserve in revitalizing communities in Ashtabula and the organization is in safe hands under her leadership and that of the Board."