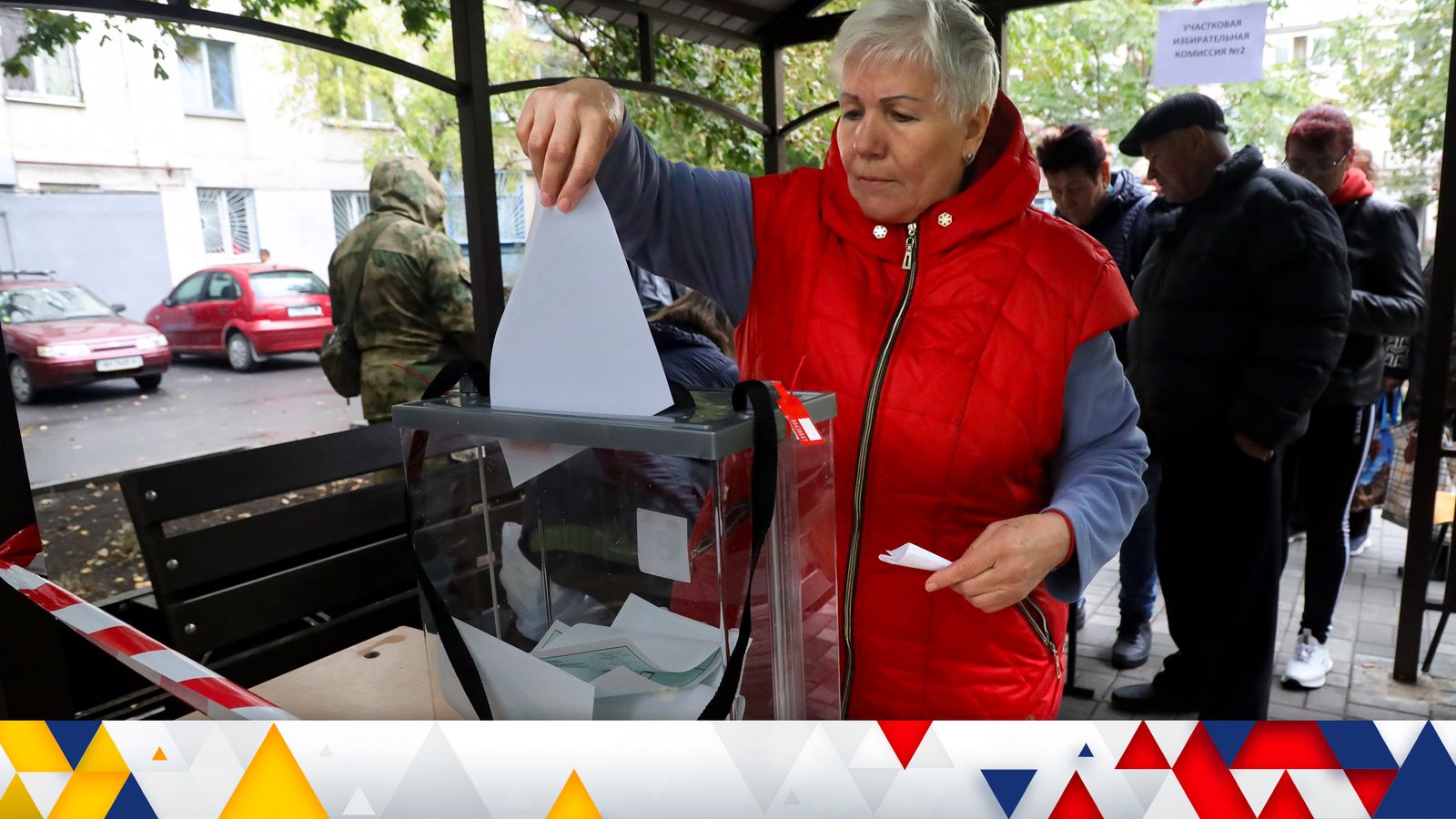 Four Ukrainian regions that held 'referendums' to be incorporated into Russia on Friday, Kremlin says | world news
Four occupied areas of Ukraine will become part of Russia on Friday, the Kremlin said, and any attack on them will be considered an attack on Russia itself.
It comes after so-called referendums, which the West dismissed as an illegal sham.
President Putin will attend a ceremony in the Kremlin tomorrow where documents will be signed and the regions will be incorporated into Russia.
Latest from Ukraine: Russia says Nord Stream leaks occurred in 'territory controlled by US intelligence'
Pro-Kremlin officials said wednesday that the self-proclaimed republics of Luhansk and Donetsk and the regions of Kherson and Zaporizhzhia had all voted to join Russia.
He claimed that 93% of votes in Zaporizhzhia were in favour, as were 87% in Kherson, 98% in Lugansk and 99% in Donetsk.
The regions represent about 15% of the Ukrainian territory.
Giant video screens were set up in Moscow's Red Square on Wednesday, with billboards proclaiming "Donetsk, Luhansk, Zaporizhzhia, Kherson – Russia!"
Voting in the south and east of the country began last Friday, often with armed officials going door to door to collect ballots.
It was almost certain that such results would be returned.
President Putin will deliver a speech after Friday's ceremony and meet with Moscow-appointed regional administrators, the Kremlin said.
A concert in Red Square is also scheduled for Friday evening.
"Radical change" after the referendums
Russia is now expected to claim that Ukrainian forces' efforts to retake these areas are an attack on the motherland.
President Putin warned that he would be ready to use nuclear weapons if Russian territory is threatened.
Mr Peskov said that the legal situation would "change radically" after the vote, "with all the corresponding consequences for the protection of these areas and the guarantee of their safety".
Russia's staging of "referendums" is the same tactic it used to claim Ukraine's Crimea region in 2014.
Russia digs as Ukraine continues to push – Professor Michael Clarke

James Cleverly, the foreign minister, told the United Nations last week: "We know what Vladimir Putin is doing.
"He plans to fabricate the result of these referendums, he plans to use it to annex sovereign Ukrainian territory, and he plans to use it as an additional pretext to intensify his aggression."
Mr. Cleverly said that in parts of occupied Ukraine, civilians are being tortured, arbitrarily detained and forcibly deported to Russia.
The vote is believed to have been prompted mainly by Ukrainian counterattacks which have recaptured swathes of occupied territory.
While much of Lugansk is under Russian control, around 40% of Donetsk is not.
Large parts of Kherson and Zaporizhzhia are also under Ukrainian control. Fighting continues along the front lines in all regions.