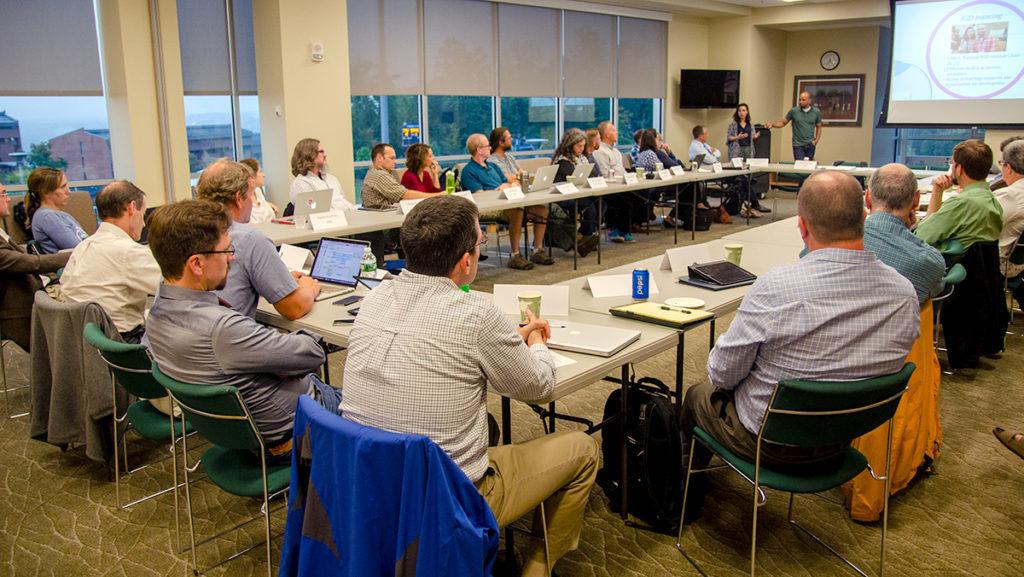 IC Faculty Council discusses shared governance structure
At the April 5 meeting of the Ithaca College faculty council, council members discussed the shared governance structure, college bylaws, and faculty representation on the council with Emily Rockett, the college lawyer in the Legal Affairs Division.
While the faculty council makes recommendations to the provost and vice president of educational affairs on college policy, the Ithaca College Board of Trustees is the primary legal entity and governing body of the college. This means that changes to the Ithaca College Policy Manual – including Volume IV, the Faculty Handbook – must go through the Board of Trustees.
During a discussion on shared governance with Thomas Pfaff, professor and chair of the Department of Mathematics, Pfaff expressed support for a preamble to the regulations that would set an expectation for what shared governance looks like.
"Personally, I think it's important for us to state expectations in a quasi-official place where people can point fingers and say 'We voted on it and that's what we consider to be expectations' [for shared governance]", said Pfaff.
In recent years, the concept of shared governance has figured prominently in discussions of how college administration deals with faculty. In 2021, during the first phase of the Academic Program Prioritization (APP) process – which eliminated 116 full-time equivalent faculty positions – there were calls from members of the campus community for the college to set up genuine shared governance. These calls continued during the period announced creation of a new school — the School of Music, Theater and Dance, which is part of the second phase of APP.
Rockett responded to Pfaff by saying that nothing would prevent the implementation of a preamble, but that the idea would not be an effective method of achieving the goal.
"It's not prohibited, but it comes down to what the regulations are for," Rockett said. "In my opinion, it wouldn't be effective and it wouldn't really do anything, but I guess it's not prohibited."
Rockett said if Faculty Council members wanted to change the scope of what shared governance means, that would mean changing the institution's bylaws. This means that a faculty member wishing to change the bylaws would have to present their recommendation to the board of trustees, who can change these laws.
Ellen Staurowsky, a professor in the Department of Arts, Science and Media Studies, told Rockett of her concerns that this system could create an impasse, as the board of trustees can reject professors' proposals.
"Our goal is to try to find better ways to create ways to communicate in a way that's going to create a healthier institution," Staurowsky said. "How do you create these avenues that quickly come under shared governance so that when proposals come forward, they're not automatically rejected?"
Pfaff reinforced Staurowsky's point by saying the board can ignore faculty voices by simply refusing to listen to faculty recommendations.
"One of the fundamental problems we have is [that the] the administration could ignore our regulations without any consequences," Pfaff said. "If they don't feel like coming to a recommendation, they don't have to. That's part of the problem — in a way, faculty really don't have any power here. If the administration wants to ignore the regulations, they can simply ignore the regulations because there are no consequences.
Fatima Hajjat, an assistant professor in the Department of Marketing, also spoke to Rockett about the School of Business's representation on the Faculty Council. The School of Business has two faculty council representatives, the Roy H. Park School of Communications has four, the School of Music has five, the School of Health Sciences and Human Performance has six, and the School of Humanities and Science has 10.
"I'm also a bit worried about how little voting power the School of Business has," Hajjat ​​said. "I can tell you that we have been reduced a bit, not on our own. I still don't think it's fair that we have so little voting power. I am very, very concerned that the School of Business is not represented.
Steve Gordon, an associate professor in the Department of Arts, Science and Media Studies, proposed that schools should have the same number of representatives on Faculty Council.
"We should consider a more senatorial approach to faculty council where there are two or three members from each school," Gordon said. "So it's obviously equal. It seems that the [United States] The Senate is more what we should be.