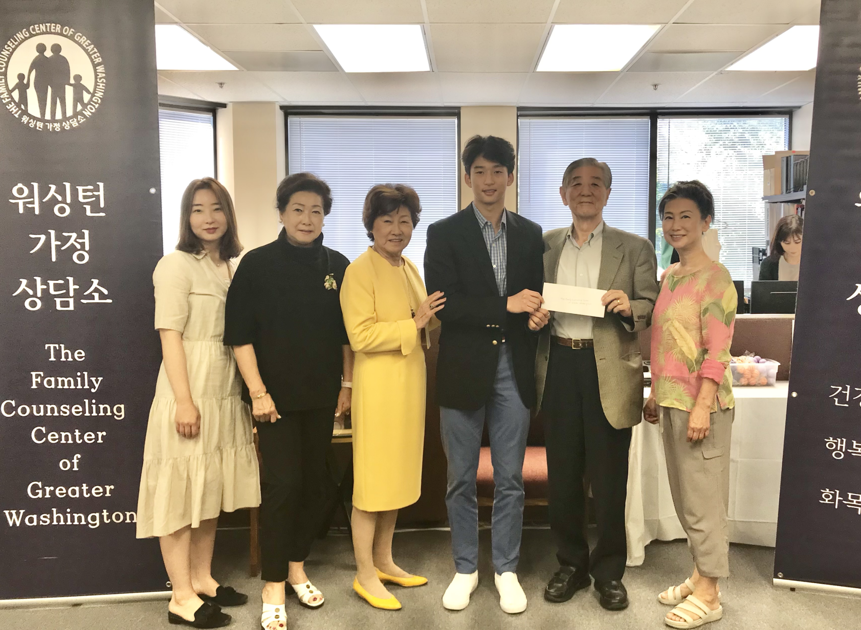 McLean teenager donates over $ 25,000 to mental health organization | Good vibes
Kozmo Rhyu raised funds for FCCGW through fencing
McLean's 16-year-old Kozmo Rhyu has been practicing fencing for years – and it's something he plans to pursue beyond his high school career. What Rhyu didn't know was that his fencing would bring in over $ 25,000 to the Family Counseling Center of Greater Washington (FCCGW).
It only took a few months for Rhyu to raise funds – he got the idea for this fundraising opportunity in October 2020 and started the process in March 2021. He presented the donation to FCCGW on September 7th. .
Rhyu first came up with the idea of ​​fundraising because he had heard that mental health organizations were suffering financially from the COVID-19 pandemic.
FCCGW is a non-profit organization serving those in the DMV area to improve mental health services by providing counseling and awareness services, according to the organization's website.
He chose FCCGW to donate their fundraising efforts not only because of their mental health services, but because they do so much for the Korean American community in particular.
"I, too, as an American Korean, I know that in the Korean community in particular, mental health has always been a stigmatized issue," said Rhyu. "So you know, basically, by combining those two things together, I thought, why not start a fundraiser for the Family Counseling Center of Greater Washington… so it's kind of like the perfect time and I found the perfect organization for that. "
Cindy Han, President of the Board of Directors of the FCCGW, recalled that mental health is a stigmatized problem in the Asian American community. "What we're trying to do is hopefully one day eradicate this stigma [so] people who need help can ask for help through activities and places that can help them, "she said.
Han also noted that the organization is delighted to receive the donation, adding that "every penny" of Rhyu's donation will help those who cannot afford the services – or those who may experience other treatment issues due to the language barriers.
Rhyu said all the donations he collected came from third parties.
"I've contacted over 100 – you know, basically anybody that I could contact friends, family, friends, you know, from my fencing life, from my school life, from other extracurricular activities, "he said. "Basically, I reached out to everyone I could, and sent them a pledge form, basically asking people to pledge a certain amount of money per point that I score in fencing competitions. "
Essentially, Rhyu requested that individuals donate per point he scored – so if he scored a point, they could donate 10 cents for each point, he used as an example.
He said he had one goal in mind when he started fundraising – he just had no idea he would raise as much money as he finally did.
"I had no idea how successful the fundraiser would be. So I started with the goal of $ 10,000. But about halfway through – after a few months of fundraising, I realized that fundraising had the potential to raise more than that, so I kind of pushed it to $ 25,000. And I was able to achieve this goal, "said Rhyu.
After people found out about the fundraiser and interest was generated, Rhyu said he didn't have much of a problem receiving donations.
"When I first came up with the idea in October, I couldn't really imagine giving the check back to the organization," he said. "It was really, really satisfying when I did it because the organization was so happy that someone in high school really thinks about their organization and the Korean community and goes out of their way to do it. So it was very satisfying, it was a very satisfying time.
Rhyu has experience with other sports and extracurricular activities, but fencing is his real passion. He's a student at St. Albans School, a private school in Washington, DC, so most of his time is spent between homework and fencing. When he can, he tries to rest.
Han explained that she is delighted to keep in touch with Rhyu over the years, as she is impressed with his spirit of wanting to help others. "What an example he can set – which he sets – for young people in our country, in our neighborhood, in our state and in our county," she said.